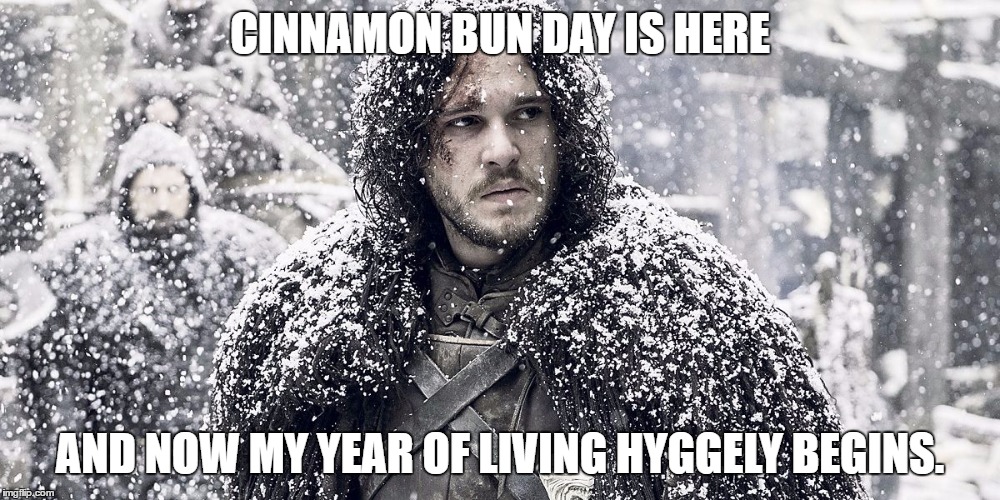 After laying my plans and doing as much reading around as I can…. I still have so much more to do…. today is Cinnamon Bun Day and I officially begin my Year of Living Hyggely, making sure that I include as many moments of hygge as I can in my life; looking at all aspects of the way I live and hyggering them up, so that I can be as 'happy' as the Danes and doing all this in a very British Way.
I'll be using Danish recipes and finding British alternatives that have the same impact. I'll look at different elements of Scandi living and finding the British equivalent. If imitation is the sincerest form of flattery, I'll be imitating and adapting a Danish lifestyle to one that a British woman, living in the North, not cosmopolitan London, can follow.
And I'll be chronicling it here, every step of the way.  By next Cinnamon Bun Day, I hope to have spread the hygge message; that now is what matters, that happiness is achievable for everyone, and that we all have a role to play in promoting that. I want to be the first Official Hygge Ambassador.
And I kicked my year off this morning with this Kanelbullar recipe from Scandinavian Kitchen… I tweeted Bronte Aurell first thing this morning to ask permission and got an instant 'YES!  Thanks x' She's so kind!
I made these last night and they are yummy scrummy. I'm doing a review of the recipe book later on either this week or next, just to say I have tried 3 recipes so far and they have all worked immaculately. So, here for your enjoyment today on Cinnamon Bun Day is THE recipe of the week; enjoy x
Cinnamon Bun Recipe/ Kanelbullar – BASIC DOUGH

13 g/2 ½ teaspoons dried/active dry yeast or 25 g/1 oz. fresh yeast *(see below)

250 ml/1 cup whole milk, heated to 36–37°C (97–99°F)

80 g/ ¾ stick butter, melted and cooled slightly

40 g/3 tablespoons caster/granulated sugar

400–500 g/3–3 2/3cups white strong/bread flour

2 teaspoons ground cardamom

1 teaspoon salt

1 egg, beaten

Filling:

80g butter

1 teaspoon plain flour

1-2 tablespoons ground cinnamon

1/2 tsp ground cardamom

1/2 tsp vanilla sugar

80g caster sugar (or half and half caster / soft brown sugar)

Egg, for brushing.

Cream all the ingredients for filling together until smooth.

Here's how to do it:

*If using fresh yeast, add the warm milk to a mixing bowl and add the yeast; stir until dissolved, then pour into the bowl of the food mixer.

Pour the warm milk into a bowl, sprinkle in the yeast and whisk together. Cover with clingfilm and leave in a warm place for about 15 minutes to become bubbly. Pour into the bowl of a food mixer fitted with a dough hook. Start the machine and add the cooled, melted butter. Allow to combine with the yeast for 1 minute or so, then add the sugar. Allow to combine for 1 minute.

In a separate bowl, weigh out 400 g/3 cups of the flour, add the cardamom and salt and mix together. Start adding the flour and spices into the milk mixture, bit by bit. Add half the beaten egg. Keep kneading for 5 minutes. You may need to add more flour – you want the mixture to end up a bit sticky, but not so much that it sticks to your finger if you poke it. It is better not to add too much flour as this will result in dry buns. You can always add more later.

Once mixed, leave the dough in a bowl and cover with a dish towel or clingfilm. Allow to rise for around 30 minutes or until it has doubled in size.

Dust a table top with flour and turn out the dough. Using your hands, knead the dough and work in more flour if needed. Using a rolling pin, roll out the dough to a 40 x 50 cm/16 x 20 in. rectangle.

Spread the filling across the dough in an event, thin layer.

To twist or roll?

To make traditional swirls, simply roll the dough lengthways into a long roll and cut into 15-16 pieces, place on a lined baking tray, and leave – covered – to rise for another 20 minutes.

When you have done your twists, leave on a lined baking tray for 20-25 minutes to rise again.

Heat the oven to 200 degrees fan. Brush the buns lightly with beaten egg, then bake for 6-9 minutes or until golden and done.

While they are baking, make a simple sugar syrup: In a saucepan, heat 50ml water with 100g sugar until bubbling and completely melted. You can also use golden syrup and just melt it a big in a saucepan.

When the buns come out of the oven, immediately brush lightly with the syrup, then add pearl sugar (nibbed sugar) on top of the buns and cover with a damp tea towel. the tea towel stops the buns from going dry. If you cannot get hold of nib sugar (pearl sugar), you can use chopped hazelnuts etc instead as an alternative.
I'll be back tomorrow, of course I will, but don't forget you can also find me on social media;
Facebook as How to Hygge the British Way
Twitter as Angel Kneale
Instagram as British Hygge Jem
I'd love to see you all there; I love meeting new friends and it's great to know that social media has made things like asking for permission to use a recipe so easy, and brought a wide, wide world closer together.
Have a happy Bun Day! Go hygge yourself!